Wayfinding and Street Furniture on Display at Smart Cities Connect Expo
At the Smart Cities Connect Expo last week, there were an abundance of digital kiosks and streetlights on display, all promising to deliver WiFi, host environmental sensors, provide small cell support and create a foundation for future fog computing.

There was something of a new-gadget feel to the demos, with a hint that these installations could revolutionize smart cities the way the iPhone (now ten years old!) revolutionized smartphones.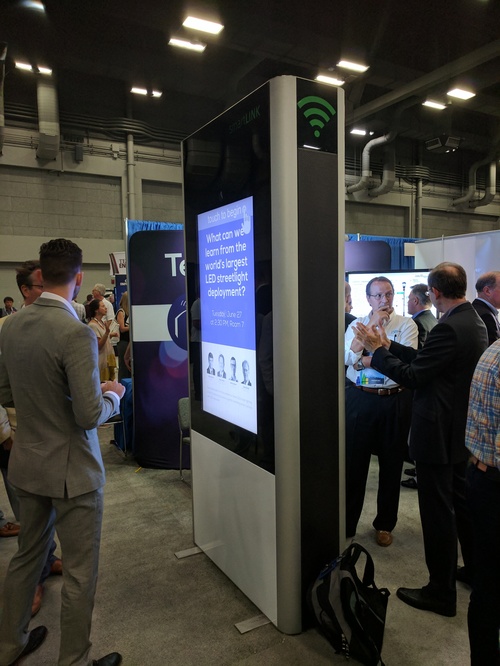 Smartlink's digital kiosk was one of many at the Smart Cities Connect conference

However, behind the scenes, there was also evidence of major civic and policy debates underway. Who should own these assets? How should the wireless connections they provide be backhauled? And what aesthetic control should cities exercise over their deployment?

Take the city of Aurora, Colo. CIO Aleta Jeffress noted on a panel that Aurora has decided to buy back its own streetlights from the energy company that currently owns them. Why? Not only is it more cost effective for the government to manage them, but the city will be able to determine how those light poles are used for wireless networking going forward. (Think small cell pole attachment fees.)

With kiosks, the debate also extends to whether cities want an advertising model to subsidize their wireless infrastructure. The famous LinkNYC deployment now includes hundreds of ad-funded kiosks around New York City providing free WiFi. The hardware company behind the rollout, Civiq Smartscapes, already has a second generation of its kiosk available and has sold more of the units to additional cities including London, Dallas, San Antonio and Miami.

On the other hand, Philadelphia CIO Charlie Brennan said at an event recently that he's not interested in using advertising to support smart city applications and IoT connectivity. He'd rather form other types of partnerships that benefit both vendors and the city — perhaps focusing on an exchange of resources, or providing a way for the city to earn back revenue after investing in the necessary equipment.

Regardless of what business models win out, it's clear we're going to see a lot more street furniture coming soon. For wayfinding, WiFi and more, scan below to see pics of the telecom poles of the future.